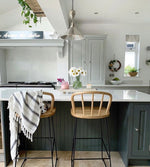 There are a few simple elements that can transform a kitchen into the ever-popular Nordic style, bringing the sense of 'hygge' into your home. If you've got the Scandi design bug, we have a few suggestions for you.
Scandinavian design is characterised by a muted, soothing colour palette, clean and simple lines, minimalism, and flattering lighting. But don't ever be fooled into thinking that minimal and Nordic means cold. The use of clever lighting solutions, wood, and natural materials means that Scandi designed rooms are filled with warmth, fuelling their popularity.
To design a Scandi inspired kitchen, the key is to create a layout that is practical but without losing the pleasing aesthetic. The layout is vital in the design, so aim for an open plan kitchen with space for the whole family to gather.
It is still possible to recreate the style in a small kitchen by introducing other elements, such as a busted colour scheme, and clever storage solutions to make the space feel bright and organised.
Matt finishes in a palette of white, grey, pale pink, and blues help create the minimalism, being much more understated than high-gloss finishes.
The final touch is the lighting, as Nordic homes in the northern hemisphere have much shorter days during the winter, and many Scandi kitchens focus in bright, well-lit spaces.
Pendant lights over the dining area or kitchen island help cast a warming glow over the entire kitchen, and in smaller kitchens, cleverly sited lights on shelves help create the cosy 'hygge' atmosphere.
If you're looking for contemporary and classic lighting solutions in the UK, visit our store today!