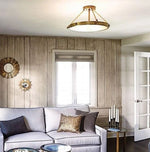 Where do you go for inspiration on your next interior design project? We all know that the likes of Pinterest are very popular, but it seems that this isn't the only social media site we turn to if we want ideas for how to spruce up our homes.
New research conducted by the Home Builders Federation (HBF) revealed that Instagram is proving particularly popular for those seeking inspiration, especially people aged between 25 and 34 in the UK.
According to the HBF survey, 23 per cent of Brits in this age group look at social media every day to get some ideas for their abodes.
What's more, 19 per cent of Brits even admitted that they had spent time cleaning a room in their home just to get the perfect social media background for a post.
Perhaps unsurprisingly, 16 per cent of those questioned said that their interest in updating their home has increased in recent months. One element you need to consider when you're carrying out any kind of interior revamp is your lighting.
In fact, upgrading your home with luxury wall lights could be a particularly cost-effective way to breathe new life into a space. The Washington Post recently pointed out that new lighting can change the ambience in a room and make a significant difference to how it appears.
One consideration is how you can adapt your lighting throughout the day to serve different purposes, making sure it's bright and cool during the day when you might be working, but warm and soothing in the evening when you want to wind down.