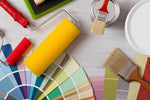 While some people consider themselves to be interior design experts, the rest of us might not have a clue where to start when redecorating our homes. This is why mistakes are often made when it comes to choosing décor and furniture, as well as artwork or wall colour.
According to Good Housekeeping, the most common blunder homeowners make is picking a rug that is too small for the space.
Interior designer Roxi Zeeman told the publication: "A great rug can really define the style of your space and ground the furniture beautifully, so it's really important to choose the right one."
While she noted it can be "scary" to choose large rugs, particularly if they are expensive, "it's definitely one of the most important elements in your room so is worth investing in".
Another mishap is buying the wrong type or size of sofa, or trying to make an old couch fit in with an updated design.
While it is important to choose a sofa wisely when redecorating, she warned people not to give in to the 'showroom effect', which can be done by choosing matching pieces of furniture.
"Doing so is going to give you a flat, boring showroom catalogue kind of room. I think it's so important to mix it up and create an interesting, textured and eclectic look in your living room," Roxi stated.
Choosing the right light fixtures is also very important and the interior designer, who boasts 1,526 followers on her Instagram page, features them regularly on her social media account.
Picking luxury ceiling lights carefully can add charm and character to a room, so make sure you hunt around for ones that will complement the overall design of the lounge.