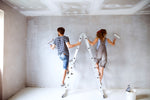 While some people might be heading back to work, a lot of homeowners have to continue making do with their house being their new office and others are still waiting to be given the ok to return to their hospitality, leisure, or retail jobs. This means they have to stare at the same four walls all day long, tiring of the wallpaper, poor design layout or bad lighting.
For those itching to redecorate but aren't sure how to do it with restrictions still in place, here are some tips that might come in handy.
One of the best ways to give a home a new lease of life is simply to let in more natural light, brightening up the space and making it feel fresh and new.
Jennifer Storo, a home stager, told Boston's Stage to Sell: "Open or remove dark window shades, blinds, draperies and let that sunshine beam in. Natural light opens up a room and a view out of the window carries the eye farther."
Of course, if you do not have great natural light or pretty views, it can be difficult to brighten up a space. This is why designer ceiling lights could be the answer, giving the illusion of an open, airy room.
You might not have the luxury of shopping around for important pieces of furniture at the moment, but you can refresh rooms by swapping items from other areas of the house.
Kaylei McGaw, prop stylist, suggested moving pieces around and changing their functions, saying: "In the hallway, the bench was a landing pad for your backpack and mail, but in the bedroom, you'll top it with a blanket and throw pillow."