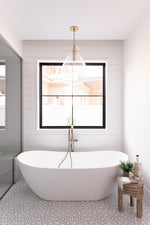 Transform the ambiance of your home with a unique and innovative interior design by incorporating the introducing the Ivy Collection by Becki Owens, in collaboration with Hudson Valley Lighting. Our latest blog post explores this beautiful and sophisticated collection of lights that combine modern design and Californian bohemian influences. With a focus on quality and adaptability, the Ivy Collection offers a fresh interior style for everyday spaces. Read on to discover more about the inspiration behind the collection and the key pieces, including the Ivy Pendant and Ivy Sconce, available at Decolight, the UK's premier lighting website The fusion of their distinct designs ensures that you will experience an unparalleled style in all parts of your living space. You can refresh any room effortlessly using these elegant products ranging from chandeliers to floor lamps, which are created with superior craftsmanship for maximum durability without compromising on aesthetics. Elevate your decor game today!
If you're seeking a method to revamp your abode's aesthetic, the fresh assortment from Hudson Valley Lighting and Becki Owens is bound to leave an impression. Decolight.co.uk boasts an array of breathtaking illumination that infuses refined contemporary concepts with elements reminiscent of laid-back California bohemian vibes.
San Clemente, the picturesque beach town where Becki Owens resides has served as inspiration for this collection. The unconventional spirit of bohemianism is fused with modern sleek designs and mid-century coastal shapes. As a result, an array of exquisite pieces are created that manifest elegance and finesse while imparting aesthetics to mundane spaces making them extraordinary focal points in any area they inhabit.
Renowned for her expertise in interior design, blogging, and setting trends with an eye towards achieving streamlined yet sophisticated spaces. Becki Owens has a genuine love of using uncomplicated designs to create elegant environments that make people feel at home. Through years spent designing model homes within sprawling developments combined with formal education in the field of interior design; she showcases her signature style through these exclusive modern pieces now available via Decolight.co.uk.
Significant items in the assortment comprise of the diminutive Ivy Pendant, grandiose Ivy Pendant, and stylish Ivy Sconce. The petite variant of the pendant showcases a sizable crystal-clear glass shaped like an emotive teardrop but with minimalistic flair. In contrast, its larger counterpart captures attention through its sheer size and sophisticated design scheme. Meanwhile, sporting a contemporary twist on classic lighting fixtures is the alluringly curved arm holding up an immense flowy-shaped glass which defines this modish rendition: The Ivory Sconce.
Visit Decolight.co.uk to explore Hudson Valley Lighting Group, a brand at the forefront of innovative design with timeless aesthetics. Utilizing their unparalleled engineering competencies and boundless potential, four distinct brands - Hudson Valley Lighting, Mitzi by HVL, Troy Lighting and Corbett lighting- offer transformational solutions that will amaze and delight in any space.
Indulge in the unparalleled excellence and fashion of Hudson Valley Lighting and Becki Owens' compilation at Decolight.co.uk this very moment. Be captivated by the exquisite craftsmanship, refined design, and impeccable taste of their products. Discover a plethora of lighting fixtures that are magnificently sophisticated yet charmingly simple in every way. Feel confident knowing that you're investing in high-quality pieces that exude both modernity as well as timeless elegance. Take advantage now to adorn your home with these exceptional creations from top-notch designers!