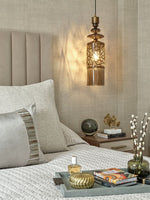 How to Create a Stylish Bedroom with Pendant Lights

 The Placement of a Pendant Light : 
The placement of a pendant in a bedroom can determine the function and how much light is required. When thinking of a light for late night reading, a pendant light can offer direct and downward lighting that can be fixed to the ceiling above where you lay. Some people prefer softer ambient lighting to read, so having two pendants hang either side of the bed provides a cosy and convenient light for those evenings when you want to relax with your favorite book before going to sleep. Having two lights on either side also allows you to adjust their brightness accordingly.

Choosing Your Light :
When choosing your pendant, there are certain aspects that need to be considered such as size, shape, material, color and finish. It is important to consider these elements together because they have an impact on each other when it comes to creating overall impact on the space. For example, if you choose an oversized pendant then it will create greater impact than one that is more petite in size; but if you choose one made from brass or gold then this will add more warmth than one made from silver or chrome which will provide more cool tones. If you want something more eye-catching then opt for something that has intricate detailing or bold colors; whereas if you want something subtle then go for minimalistic designs in neutral or pastel shades.

Creating Ambience :
The great thing about using pendants as opposed to other forms of lighting is that they give off different levels of illumination depending on their position; they don't just provide bright overhead lighting like some others do but instead offer both bright and dimmed options depending on where they are placed within your room layout. This means that by simply adjusting their height or angle in relation to your furniture pieces, you can create various atmospheres within your bedroom – from cozy and romantic settings perfect for those nights spent cuddling up with your partner, through to brighter environments when entertaining guests or having dinner parties at home!

Conclusion: By carefully selecting the right type of pendant lights for your bedroom and positioning them correctly within your layout, it is possible to create an elegant yet sophisticated atmosphere that will not only look beautiful but also make it feel comfortable throughout day and night time hours! With so many options available now it's easy enough for anyone with any budget range to find something suitable – so why not take some time out today and start exploring what's on offer! Good luck!