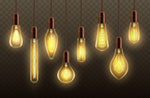 The sale of halogen lightbulbs will be banned in the UK from September 2021, and high-energy fluorescent lights are set to be phased out according to new government regulations.
The government claimed in a press release that removing halogen light bulbs and replacing them with energy-saving LED ones will cut 1.26 million tonnes the same amount of carbon dioxide as half a million cars.
The government also claims that fitting LED lights into luxury wall lamps, desk lamps and all other lighting sources in the home will save British consumers up to £75 per year on energy bills.
At present, the majority (two-thirds) of light bulbs sold in the UK are LED lights, which use 80 per cent less power for the same amount of light and last up to five times as long without blowing. The Government aims for 85 per cent of all bulbs sold to be LED by 2030.
This is the next stage of a long-term phasing out of traditional halogen bulbs that began in 2018 with higher-wattage bulbs being outlawed in 2018.
With this new move, the majority of halogen light bulbs will no longer be available for sale from 1st September.
Along with this, government ministers also announced a new energy scale on the boxes of all light bulbs, which removes the A+, A++ and A+++ ratings in favour of a rescaled A-G system, raising the efficiency requirements for each class.
Finally, the government is set to outlaw the sale of fixed lighting fixtures with bulbs that cannot be replaced, as they claim this contributes over 100,000 tonnes of electrical waste each year.