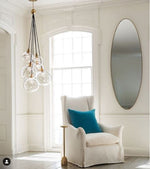 Part of the appeal of interior decorating is that you do not have to follow strict rules, and it is easy to mix and match different styles if you learn the basics of interior design.
If you're looking to add modern twists to your interiors, we have a look at three ideas, from hanging art to getting your lighting design right to create a living space that will be bold and inviting.
Bring Life And Embellish Your Walls
Homes typically have neutral walls, but adding colour can be achieved with art paintings, posters, wallpaper, and a variety of frames for your prints and photos that will catch the eye of anyone walking in the room.
Try mixing styles and look at prints from great living artists and iconic brands, with abstract, black and white, or landscape motifs. Hanging frame prints is an easy and affordable way to create a more modern twist, allowing you to stamp your personality and tastes on your home.
Lighting As A Way to Bring Fresh Energy
Lighting is an essential element of any home design project. Minimalist shapes of lights combined with wood or gold are often popular choices that blend well with a traditional space.
Why not try introducing atmospheric lighting, which has become increasingly effective in modern interior design, giving a warm and soft effect to a white or beige wall.
Table lamps, suspended pendant lamps, or lively light sources are different alternatives you can choose from.
Do The Unexpected And Paint Your Doors
Doors can often be neglected when it comes to interior design, so why not paint your internal doors while you're refreshing the walls with a lick of paint. You should think about whether to paint them the same colour as your walls, or a complementary colour to match the decor and accessories.
If you're looking for designer table lamps in the UK, visit our online store today.