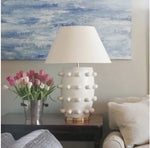 Statement lighting is becoming increasingly popular in luxury homes and is a wonderful way to add some drama to your home decor.
That's according to Homes & Property, which revealed that bold designs and glamorous materials are definitely in when it comes to lighting. It explained that designers are making the most of new lighting technology, like LEDs to bring a wow factor to our interiors.
"Marry this [technology] with architectural shapes and glamorous materials, such as mouth-blown glass and burnished metals, and it's easy to add drama and a sense of narrative to any room," the news provider stated.
When it comes to shapes, circular, oval and other soft shapes are among the top trends to watch. There are also some sculptural, angular light fittings that are highly attractive, the publication noted.
Chandeliers and pendant lights are a particularly good bet if you're looking for designer ceiling lights that will take centre stage and draw people's attention to a specific part of the room too.
If you're in the mood to make other interior changes while you're spending so much time at home, Seen in the City recently offered some suggestions as to how to brighten up your space. One of the ideas is to create a gallery wall where you can showcase everything from family photos to pieces of art in a single space.
Another option if you want to have a dramatic transformation in a particular room is to use a bold, vibrant colour to create a feature wall. Just painting one wall in a room certainly gives it impact and makes it a focal point.