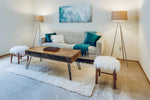 Summer is clinging on, but it won't be long before the nights begin to creep in, and autumn is here. So, if you want to create a cosy ambience in your living room when the season changes, take a look at our favourite floor lamps.
As the evenings darken, homeowners will quickly turn to putting on a dim light in their lounge instead of flicking the main light switch. Nobody wants a bright light when they are trying to relax before bed, which is why we will all be turning to our floor lamps soon enough.
Tripod retro lamps are particularly popular, as they have an Art Deco look to them, and work brilliantly in both modern and period properties.
If you want your lamp to make a statement, opt for a reach floor lamp. This striking accessory needs to be made the most of, so don't hide it behind furniture or in the corner of the room. Place it next to a sofa or reading chair, so the large lampshade creates a spectacle, as well as providing ample light.
Homeowners with contemporary interior design might love a linear LED floor lamp for a unique feature. Commenting on this type of lamp, Cosmopolitan magazine stated: "This eye-catching design is chic and modern, plus it can be styled up or down, depending on your space."
For more inspiration on luxury floor lamps in the UK this autumn, take a look here.