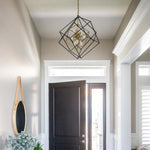 Hallways can often be rather neglected spaces when it comes to lighting design, but it is important to light this space well both for safety reasons and to make a welcoming first impression. Here are some tips to create a space with lighting that is inviting, stylish and functional. 
Assess the size and shape of the hallway
First of all, consider the proportions of the hallway. Do you have high ceilings and wide passageways, or is it a small and narrow space? If you have a larger entrance way, you can take advantage of the space with a statement piece of lighting such as a chandelier or a contemporary designer ceiling light. 
Smaller spaces are better suited to wall lighting, such as sconces, flush mounted lights, or recessed lights. 
Consider the style of the hallway
You will want your choice of lighting to be in harmony with the style of the rest of your house. Consider how well the colours, materials and design of the light fixtures complement the rest of the decor. You could opt for sleek understated designs, or make a statement to create a focal point in a hallway that lacks other interesting features. 
LED bulbs are a good choice for hallways as they have a long life span and are available in a choice of warm or colder tones. 
Add layers of lighting
Larger hallways will benefit from layers of lighting to create a pleasing ambience. Consider installing task lighting near the doorway so that you can easily see locks, alarms and so on, and near to boot benches and storage units. Motion sensors can increase convenience when entering and exiting the hallway and will also save energy.
You may want to introduce accent lighting to highlight decorative features or artworks, and dimmable switches to allow you flexibility over the brightness of the lighting.