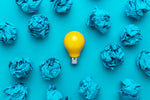 A London-based lighting design studio has launched a collection of luxury desk lamps, floor lights and sculptured lamps made from recycled paper-pulp modular pieces.
The U/V Collection by Palefire Studio consists of twelve different pieces based on a range of artistic movements but all of them are built around the same U and V shapes that give the collection its name.
The studio claims that their inspiration for the collection is to reduce waste as much as possible throughout the production process, hence the use of moulded paper pulp that forms a lightweight, robust collection of lights.
Using papier-mâché creates several interesting effects in the end product; moulded paper does not create a uniform texture, which means that every moulded lamp is unique despite the modular nature of the pieces that make them.
They are made in small batches at a workshop outside Barcelona, Spain, before being shipped to London and hand painted using paints low in volatile organic compounds, creating an effect that has an artisanal imperfection.
The studio was founded by Rowena Morgan-Cox, a multi-talented creator who initially worked as a dealer in European decorative art, sculptures and paintings.
She has worked with a range of other artists during this time as well, managing the sale of a collection of art by John Scott, as well as helping to set up the art and design store 8 Holland Street with fellow designer Tobias Vernon.
The name itself, Palefire, comes from the experimental novel of a very similar name by Vladimir Nabokov. Pale Fire is a unique, multi-directional example of creative criticism, relying heavily on metatextual structures to tell its story through the criticism of another piece of work.
This idea of works knowingly built on top of other works, as well as the paper connection, appears to have influenced the company name, but the minimalist design and focus on reducing waste comes from an earlier, more ambitious collection that relied on two many individual parts.