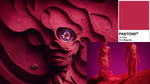 Pantone has recently announced its Colour of the Year for 2023, Viva Magenta 18-1750. This powerful and empowering carmine hue is the perfect way to inject some life into any home. And when it comes to lighting, you don't just have to stick with a single colour; you can create a dynamic multi-functional space by incorporating Pantone's curated palette of colours, known as The Magentaverse. Let's explore how you can use light to illuminate your home in style.

 The Basics of Lighting Design When it comes to lighting design, there are three basic types that everyone should be aware of. Ambient lighting provides a general level of illumination throughout a room, typically from ceiling fixtures like chandeliers or recessed lighting. Task lighting provides focused illumination on areas where tasks need to be performed (e.g., desk lamps). Finally, accent lighting is used to draw attention to feature pieces such as artworks or sculptures. Depending on the size and shape of your space, you may need all three types of lighting in order to achieve the desired effect.
How To Incorporate the Magentaverse Palette Into Your Home So now that we know the basics of lighting design, let's take a look at how you can incorporate Pantone's Magentaverse palette into your home. First off, choose ambient and task lights in muted shades such as beige or pink in order to soften the assertive hue of Viva Magenta 18-1750 without diminishing its impact. If you want to make a bold statement with your accent lights, then why not choose fixtures featuring an intense version of Viva Magenta or even one of its complementary colours? Not only will these colourful accents bring out the vibrancy of the colour palette but also create visual interest in any room.

 Lighting plays an important role in creating a multi-functional space for any home interior design project and can help bring out the vibrancy and intensity of Pantone's Colour of the Year Viva Magenta 18-1750 and its softer counterparts found within The Magentaverse palette. By understanding basic principles of interior lighting design and selecting fixtures that complement this unique colour scheme, you can easily add dimensionality and warmth to any room while making an unforgettable statement about who lives there! At Decolight , we have curated our selection specifically for this unifying concept so that your interior design project speaks volumes about what makes you unique! Make sure to check us out today!