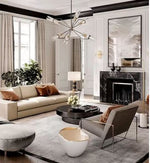 Lighting in the home can serve both a practical and aesthetic function. It's important so that we can walk around our homes and not bump into things and reduce the risk of slips and falls, and it can also help create the desired ambience of the room you're in.
If you're selling your home, then good lighting will help impress anyone who comes to view your property, or maybe you are simply wanting to switch things up around the home, maybe to meet the seasons and create a fresh new vibe, or perhaps to add task lighting to your WFH space.
We have a look at a few simple rules about what lighting is right for each room in your home.
Kitchen
The kitchen is generally the busiest room in the house, and lighting here can be particularly important. The kitchen can benefit from both practical and aesthetic lighting.
For example, you may want to implement stylish mood-creating lighting for eating meals and entertaining guests, but you need task lighting, such as pendants over kitchen islands or under-cabinet lighting to illuminate work surfaces to make meal preparation safer and easier.
Living room
The living room will need the most adaptable lighting options. You want a room where you can cosy down to watch a film or read a book, while also being able to host gatherings and entertain friends and family.
Luxury ceiling lights can help provide stylish lighting for the entire room, but table lamps and stand lamps help create ambience and help you feel warm and cosy.
Bedroom
At the end of the day, you want subdued, toned down lighting for preparing yourself for your bedtime routines, but at other times, you need lighting for getting dressed, applying make-up and other such routines.
If you're looking for luxury ceiling lights in the UK, visit our website today.