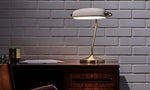 If you've been working from home a lot over the last couple of months because of the pandemic, you're sure to know how important it is to have a separate space from your living quarters in which to work.
It can be hard to adjust and remain as productive at home if you're used to working in an office, so making sure that your workspace is set up properly is a good move - and lighting has a huge part to play in ensuring that you stay focused.
If you can, set your desk up somewhere with a lot of natural light, as this can really help give you a productivity boost but also think about the options you have for electric lighting and what you might need.
Task lighting is always very useful, so make sure there's a table lamp to aid your focus as and when you need it. An anglepoise lamp is a great choice if you know you're going to be doing something intricate or you need to direct light towards certain places.
If you use a computer at work, make sure you take eye strain into account. You can help counteract any harsh light you have from your overhead lights by introducing some ambient light to soften everything.
What you're sure to notice while working from home is how nice it is not to be sat under fluorescent lights, which can make for very harsh working environments indeed.
Once you've sorted out the lighting, you can start thinking about other little touches that could make working from home a delight, whether it's lots of plants here and there, contemporary wall art or photos of friends and family.
You can find a whole range of contemporary classic lighting by visiting our online shop.