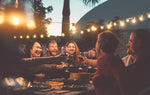 There is no better time to enjoy long evenings in the garden than during a summer heatwave, so get your outdoor lights sorted and your barbecue dusted off, as warm weather is expected to be on its way.
According to the Met Office, which spoke to The Sun, temperatures will climb to 24C this weekend (June 11th and June 12th), particularly in the south.
Forecaster Steven Dixon said: "There's warmer air near the continent, as there often is this time of year, and that's encroaching into southern areas of the country over the next few days."
He added the typical temperature for June is 20C, so conditions could be warmer than average.
Not everywhere will be basking in sunshine though, as heavy rain is expected in the north of the country.
Former tropical storm Alex will travel from Florida, US, to Britain, bringing both some warm air and wind.
Met Office forecaster Darren Bett was reported by The Mirror as saying the rain will hit Scotland the worst, with some coming down on Northern Ireland, while England and Wales will see more sunshine.
"Because we've got that tropical mix in there, we're going to draw in some warmer air I think at the end of the week," he predicted.
This weekend could, therefore, be the ideal time to get the barbecue going and friends round, after a washout Jubilee bank holiday. While millions of people intended to have outdoor celebrations with loved ones to celebrate the Queen's 70 years on the throne last weekend, many had to scrap their plans due to heavy rainfall.
Make sure you have your luxury outdoor lights set up for your garden party this weekend.