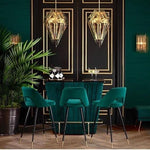 The Art Deco design styler has never really fallen out of favour, and the distinct, sleek look is old enough to gain a 'classic' designation. However, as for art Deco-inspired lighting, there's never been anything seen quite like this in interior design.
Whether you're renovating the entire house, or simply updating a room with a lick of paint in the latest colour scheme trends, new lighting can make a dramatic impact on any room, and beautifully complement your decor.
When it comes to design, there is often a sense of nostalgia, and there are always certain eras that are referred to more than others, such as Art Deco. It provides an almost endless source of inspiration with its signature silhouettes, materials, and colours.
The latest lighting trends leave the glitz and glamour on the design studio floor, as the latest pendants all draw on the more subtle Art Deco details from the 1930s, such as soft scalloped edges, hunts of marble, and a dash of Midas or bronze.
Chrome is typically associated with Art Deco, however, the new take on the classic design trend is more about soft brushed brass and warm-tined bronze material, as well as adopting a slim profile and low-level shade. The trend is more about being discerning and stylish rather than showing off your designs.
The Art Deco lighting trend works wonderfully with the current living room trends, remaining restrained yet chic. Art Deco pendants will fit almost anywhere in the home, from above the dining table to the hallway, or even stair landings.
The Art Deco lighting trend is a style that can do it all, and instantly update a space that may have been overlooked or looking dated.
If you're looking for contemporary classic lighting in the UK, visit our online store today.